WELCOME TO HALLVAD DRUMS PAGES.
Welcome to the world of wooden drums with a unique sound and workmanship.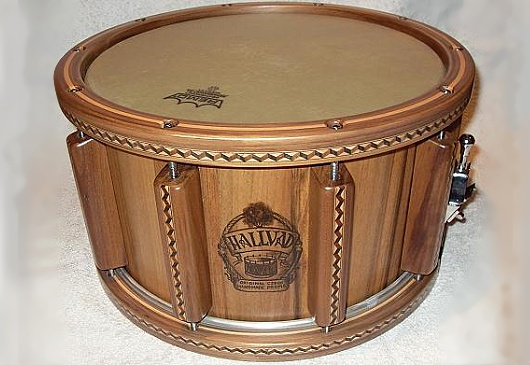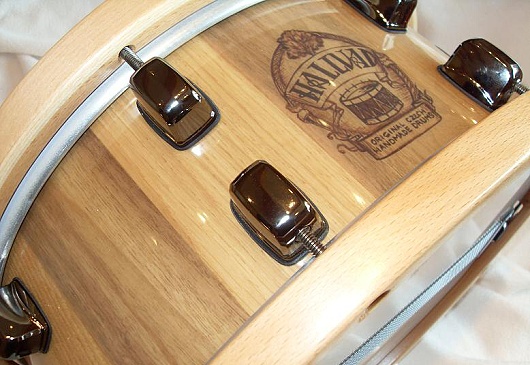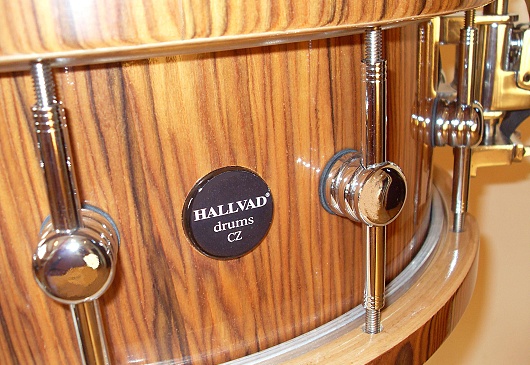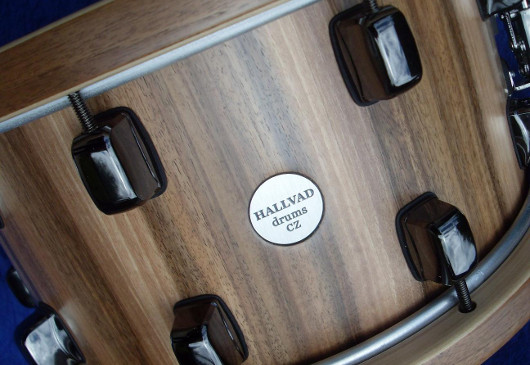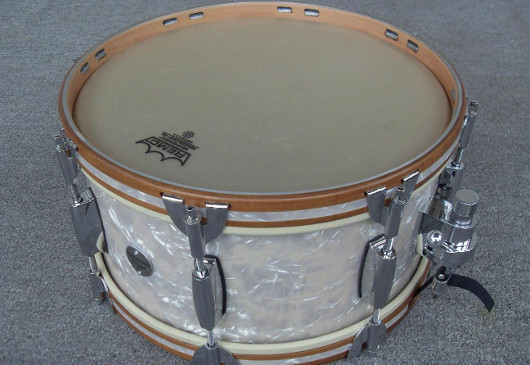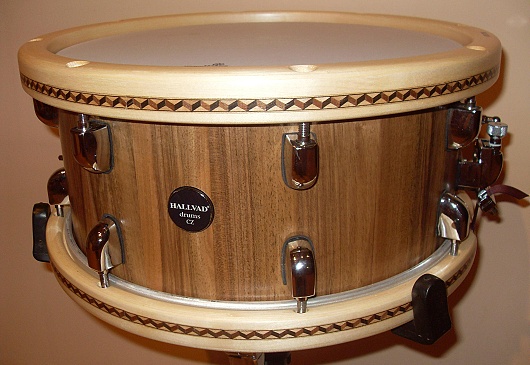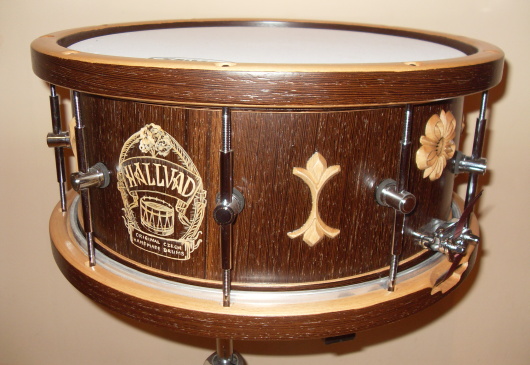 About Us
HALLVAD is a small company mainly focused on custom-bulit and handmade production of solid-wood drums. These drums are equippped with wooden hoops and mostly wooden shells too. We manufacture drums from carefully chosen materials by the technology of glued vertical solid blocks, and practically from any wooden types. Thanks to this technology only a small amount of glue is used during the manufacture, which enables the natural sound spectrum of solid wood to come out, and without any limitations (unlike to the technology of layered thin-walled materials).
We made also modifications and repases of older drums; we provide them with wooden hoops, which have warm-hearted woody sound and much more possibilities of delicate tuning comparing to metal hoops, or new surface modifications.
An individual attitude to every musician is regarded as a fully 100%-commonplace. We make a great effort to satisfy even ´´the most crazy´´ requirements.
Among our customers we have drummers of all possible music styles from jazz to metal. Every drum from our production is an absolute original; in spite of this, all our products resemble one another mainly by their ability to go with the requirements of every player extra. Thanks to massive body, the tuning gamut is really wide and so everybody finds his sound.
We believe that the Hallvad products will give you exactly what they should – refined rapaciousness, extravagance veiled in an elegant robe, harsh and silky tone at the same time.
Attractions
Stanislav Pliska - Face and player Hallvad drums
Through our work we get in contact with a lot of drummers and we treat everyone the same. We try to accommodate everyone and do our best to make them happy...


ARTISAN Turk cymbals
A wonderful experience was a trip on the wings of Turkish Airlines to the Artisan Cymbal Factory...


Jazz set Hanus and Hert
Another set worth mentioning. Its owner, Jakub, had a very clear idea of its configuration, together we decided that it would be made of olive wood...


Hallvad Bloody Ash
A set that is certainly worth mentioning is the maple stave shell set 10", 12", 14", 16", BD 22" - thin-walled maple...


Municipal Theatre Brno
The drummers from this theatre have come up with a real treat for us...


Historical drums
A special "discipline" in our activity is the production of replicas of historical drums...


New and refurbished drums for Michael Wirth, drummer with Swing Dancing Orchestra Berlin
Last year, we were contacted by Mr Michael Wirth, the drummer with Swing Dancing Orchestra Berlin...


Hallvad Cherry Custom Stave Shell set
A very interesting set TT 12"x8", FTT 14"x10" and BD 20"x14" has just left our workshop...


Original Vintage Orchestra
We have made a replica of a 1920s drumset for the big band called Original Vintage Orchestra...


Concert Bass Drum
This was an interesting job for our stable customer from a music school in Hořice...


Hallvad in the National Theatre
In the National Theatre in Prague, you can see a show directed by Ondřej Havelka...


Melody Makers & Hallvad
Recently, we have been producing a special drumset for Mr Jiří Novák, the drummer with Ondřej Havelka and his Melody Makers...


Hallvad Soundblock
New product in the percussion category.


DC-drums drumset
Hallvad wooden hoops were used on DC-drums Custom Shop drumset.


Pearl All Birch Set
Lady Image
Restoration of DW
Hallvad Open Body Technology